Summer Vacation 2005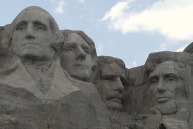 The summer of 2005 my wife and I, along with our three small kids, decided to take a two-week vacation and see Mount Rushmore and Wall Drug on the way to go see family in Minnesota and Illinois. We had a Ford Aerostar, extended version, packed to the hilt along with a roof-rack carrier. We had just learned God's financial principles and wanted to make this journey as inexpensively as possible. We brought a lot of our own food packed in coolers and boxes so that we wouldn't have to eat out much. We were also bringing a lot of things for my sister and her kids and my wife's sister and her kids, mostly clothes and toys that our kids had outgrown. You can imagine this van packed as tight as it could be with boxes of clothes and toys for relatives, suitcases, a laptop computer, a guitar, boxes of food and coolers as well as toys to keep the kids content on the long drive.
We spent a week touring around South Dakota seeing the sites. We had a great time and a lot of fun. We then headed east to Minnesota to see my parents and my sister and her family. Everything was going great until we were about 30 miles west of Albert Lea, MN. The van began to sputter and the engine finally died and I slowly pulled off to the shoulder. This all happened about 6:00 on a Friday evening.
We were fortunate to have a AAA membership and I called them to get a tow truck to take the van in to a service station and get a taxi for my wife and kids to take them to a hotel. I rode with the tow truck driver and he dropped the van off at a service station in Albert Lea and then he was gracious enough to drop me off at the hotel where my wife and kids were.
We rented a room and after we set down the few things we had taken from the van for overnight, my wife and I and our three small children gathered in a small circle holding hands and crying out to God in prayer.
My wife will tell you that she was really scared. We were stranded a thousand miles from home and more than a hundred miles from our closest relatives. I would be lying if I said that I too wasn't concerned but I was also excited. I knew that God was in control of this situation and that we would get out of it some how. I had no idea how but I had confidence that God would see us through. I was also excited for my children. Just as the Israelites saw God work on their behalf in the desert, my children were now going to have a personal story about how God met our family's needs in a very concrete and tangible way.
The next morning I walked the mile-and-a-half to the service station to get a status on my van. After a couple of hours I was told that I had blown three of six cylinders in my engine. My van did have 132K miles on it. I was also told that they could put a new engine in for $3,600 and have the van ready by Wednesday or put a rebuilt engine in for $2,400 and could have the van ready Monday night. My wife was supposed to leave Wednesday for Illinois to see her sister while my folks drove me home to Denver, CO and $2,400 was a little more than we had in the bank. I continued to pray.
Even if my parents or brother-in-law came down to pick us and all our stuff up, we still needed a vehicle to get back home in. I started to consider my options. I could buy a new car. Across the road from the hotel were many new and used car lots. I knew that my credit rating was very good and I could get a loan with my credit union for just about any vehicle I wanted. But, I would need a vehicle that would handle all our stuff and my roof-rack carrier. The other thing was that I knew that God did not want me to go into debt to buy a new vehicle that would put me upside down on the loan in less than a year.
My only other option was to buy a used vehicle. I had the same concerns and more. Not only did I need a vehicle that would take my roof-rack carrier, but would I find a reliable vehicle in a price that I could afford? So, I decided to go back to the hotel and get my wife and start trolling the car lots. As I was about to leave, one of the mechanics said that he would give me a lift back to the hotel. He understood our predicament and said that they had a used car lot and offered to let me look if I wanted. Since all options were on the table, I agreed to look.
The car lot was about a mile away from the garage. It was a small dirt lot with not more than about 18 vehicles and a small building that served as an office. As we pulled into the lot, there in the center was another Ford Aerostar, almost identical to the one that was broke down and sitting at the repair shop. In the window was a sign that advertised a price of $2,400. That was still a little more than we had in the bank. Before I could say a word the mechanic pulled the price out of the window and stated that was the wrong price. He went into the back room of the office and in a few minutes came out and said that the real price of the vehicle was $2,050.
I didn't have $2,400 in the bank; I did have $2,050. He let me take the Aerostar for a spin. I drove back to the hotel and picked my wife and kids and went out on the open road to take this "new" vehicle for a test drive. We took the Aerostar out on the highway, the van seemed to drive fine. The van seemed solid as we looked it over so we went back to the repair shop and said that we would purchase the van. They agreed to take a personal check and even let us swap out some of the good parts from the old van, like the grill, and put them in the "new" van. Those people in Albert Lea are sure friendly and helpful! After we moved all of our stuff to our "new" vehicle we were again on our way, only delayed by about a day.
I continued to drive that Aerostar for the next four years. We kept the van well maintained and put on almost 60K more miles on that van. We were given an much nicer and newer GMC van and so we gave the Aerostar away,which had logged about 192K miles by then. The van needed a little bit of work but the engine was still solid and hopefully the van is as much a blessing to the family that received it as the van was to us.
Here is kind of the moral to the story. Obedience to God's financial principles brings blessing. God knew that our van was going to break down outside Albert Lea, MN, and he had already prepared a blessing for us to receive. We could have missed that blessing if we had been left to our own resources and used credit to buy a brand new vehicle or even a used one. God knew how much we had in the bank. Buying the "new" van depleted our savings but God provided for our every need. "Great is Thy faithfulness!"
---
Biblical Personal Budgeting Home Page from Summer Vacation 2005
About Me from Summer Vacation 2005