Learn How You Can...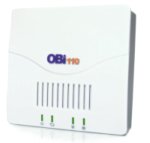 ... legally turn two common household expenses into tax write-offs!
Here is an awesome opportunity, especially if you live in a rural area, to not only turn your phone and internet costs into tax write-offs but you will be able to draw income from them as well!
If you currently own a landline and have a high speed Internet connection and you are paying more than $35 per month for your phone service, then the Obihai telephone gateway may be for you.
VoiParty is an Inter-eXchange Company (IXC) that has created the first ever peer-to-peer telephone network and covers more than 85% of the United States and Canada. VoiParty is now looking to get access to the other 15% and if you live in those areas and meet the criteria above then you are in a position to significantly reduce your telephone and Internet costs as well as earn income from your telephone line by becoming part of the network.
When you purchase an Obihai telephone gateway you will get 17 premium features included at no extra cost:
Call Return
Call Redial
Call Forwarding
Call Blocker
Call Waiting
Call Waiting per Call
Caller ID Generation
Distinctive Ring
Speed Dial
Modem Line Toggle
Fax Line Toggle
Do Not Disturb
Accept Last Call
Block Caller ID
Block Caller ID / NOC
Block Anonymous Calls
Blind Transfer
How Can I Save Money?
If you meet these criteria:
Currently have a landline
Currently have a long-distance package
Are spending more than $35 per month on your phone bill
Currently have a high-speed Internet connection
Are in an area where VoiParty does not already have saturation
Then it will be costing you not to join the VoiParty network. See the
calculations.
What About The Tax Write-Offs?
W